Leesa
No extreme dieting. Just fantastic balance of protein, carbohydrates and good fats and real nutrient dense foods. As an employee of MissFit, it is important for me to ensure I know exactly how our program works. The only way to do this, is to live and breathe what our clients are encouraged by us to do and to be a product of our own system!
So begins me doing the 12 week challenge.. Prior to this challenge, my energy levels, fitness and hormones was all over the place and felt completely unbalanced. Being in my 40's, a working mum and caring for my toddler twins, left me exhausted most days. That was until I utilised the MissFit 12 week challenge and meal plans.. Within the first 2 weeks, energy levels increased, my endurance in sessions was better and I felt more balanced. 3 kilos lost, reduction in body fat, increased muscle tone but more importantly reduction in the visceral fat ( bad fat) around my organs meant not only had I given my body the nutrition and exercise it needed but it also improved my complete health.
I was not overweight before I started this challenge. It was more for the health benefits. Results speak for themselves.
I train hard and will continue to train hard . The only difference is MissFit gave me the tools I needed to implement and as such , I can now say.. Yes I tried the plans and yes they absolutely work! Cheers Leesa
See More 12 Week Challenge Transformations
Before: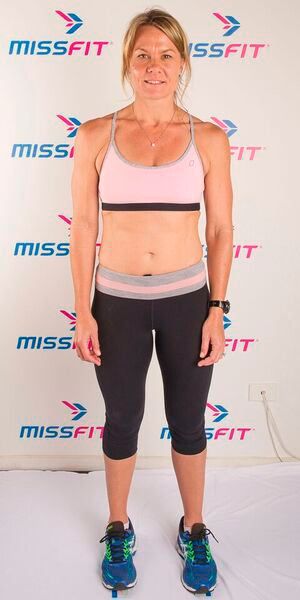 After: