Shelley P
I joined MissFit back at the start of September for the 12 week challenge.
Before joining, my health had never been a focus. I would eat anything I wanted, drink diet soft drink everyday and would only exercise with light walking.
Joining the 12 week challenge was not about weight loss for me. It was about gaining fitness, toning and creating some better habits. The challenge helped me to drop 5.1kg, 1 dress size and cm's from my waist line.
Now 5 months on from joining MissFit my physical fitness is the best it's has ever been.
I train 4-5 times a week and have cut out bad habits now having diet soft drink as the occasional treat.
I can't recommend Kate and the team enough for helping me reach my goals. All classes are a great mix of cardio and weights in a supportive and fun environment.
Each class is so different that you never get stuck doing the same old workout. I know that I will never return to my old habits because MissFit always encourages health to be a lifestyle not just a number on a scale. If you are looking for a supportive way to achieve your goals then join MissFit. You will never look back!!!
See More 12 Week Challenge Transformations
Before: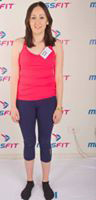 After: