Kate Beeley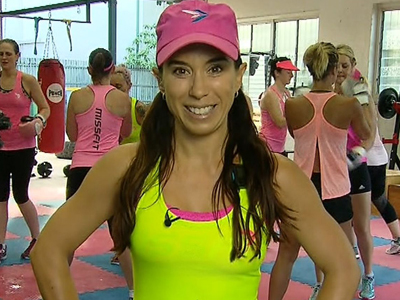 A bit about Kate Beeley (aka MissFit)
Health and physical fitness have always been a huge part of my life. I know that balancing busy lives with physical and mental health is a goal for many women.
"My passion is to share my knowledge with other women and mothers to help them feel satisfied and happy through physical fitness and healthy eating."
That's why I started MissFit.
Before MissFit, I worked in the cinema industry. That meant lots of late nights, long hours, broken shifts and irregular eating. I had to balance my dedication to work with my fitness goals.
The next balance was when I had my two children. That's when I decided to turn my health and fitness goals – my passion – into my work.
What is MissFit? After qualifying as a personal trainer from the Australian Institute of Fitness, I built my dream, creating MissFit Personal Training and Sportswear to support women with their health and fitness goals.
I lead by example at MissFit. I have fun and motivate myself to push my boundaries, and I'm proud of these achievements:
3rd INBA 2015 short class
3rd Capo Power Lifting State Championships, Queensland
I have two strong, fit and healthy children – Luke is 10 and Nicole is 7. (My children inspired me to start the program Baby Boot Camp, a core package I offer through MissFit.)
I carefully monitor my family's diet, and I train each week in weights, kick boxing and running to maintain my physical strength and fitness to inspire my clients.
Over the years, clients have told me about their struggles with nutrition and finding a balanced lifestyle.  Most of us have weight loss and training goals, but still want to live a little on the weekends!
To me, life is about balance – exercise and healthy eating balanced with a full and happy life.
Having been asked by clients over the years, I started writing down my favourite foods and recipes, building my MissFit meal plans.
I'm so excited to share my training methodologies and meal plans with you!