Danni
I knew I needed to do something about my weight when after the birth of my second daughter; it was going up rather than down and I was starting to feel like I couldn't move anymore. I was picking things up with my toes rather than bending over to pick them up and the idea of being physically able to go for a run was inconceivable to me.
I wanted to find an exercise group where I could take my kids with me so I didn't need to rely on someone to watch them. When I signed up for the six week MissFit Baby Boot Camp in Feb 2016, I thought it would be a good kickstart to getting back into shape… little did I know I would become a MissFit addict! I've just signed up for my third round of Baby Boot camp but there's more to being a MissFit client than just working your butt off, although work your butt off you do.
Kate, Fi and Tannis pull together an original work set that challenges you to new levels every session, and there's something about working out with other mums who are also encouraging you as you're having your butt kicked that helps you believe you can do anything they throw at you.
The boot camp program comes with an eating plan and tips to get your mindset and goals locked in which I found to be a very effective way to stay on track to see results. I set myself a goal at the start of February to lose 20kgs and be in a healthy range. I'm now down over 15 kgs and I'm more fit than I've ever been. I'm definitely set to reach my goal in the next few weeks and I haven't lost any motivation. The trainers and other MissFitters are always putting eating tips or encouraging words to stay on track on the FaceBook forum and I find that really supportive and encouraging and when I'm going for a jog on my own and losing momentum I hear Fi's voice in my head saying 'go Dan you good thing' and I keep going. A big shout out to Tracey who does such an amazing job with the babies… she has a knack with keeping them settled. I'd definitely recommend MissFit to anyone who wants to make a difference to their health and fitness!
See More Baby Boot Camp Transformations
Before: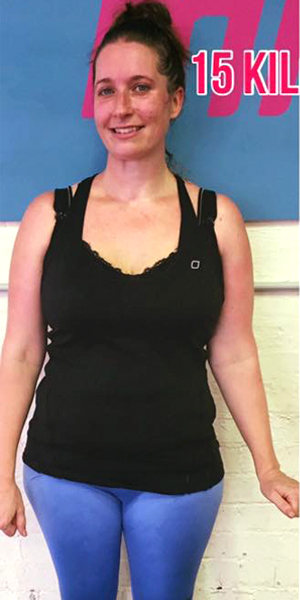 After: