Ekta
I started with MissFit in March 2015 when bub was 5 months. Baby Bootcamp… was a fantastic platform to get back into fitness. I loved working out with other Mums. The level of support from the trainers was par excellence and I valued the inspiration I could draw from my fellow boot campers!
I was hooked to the MissFit atmosphere and enrolled into a second round of bootcamp that gave me fantastic results too.
Due to a sudden trip back home and then coming down with the horrible Brisbane flu I was out for about 3 months but genuinely missed coming here, especially when I saw updates on the FB forum page.
I missed all the fun that the others were having and then much to my delight Kate announced the 12 week Summer Body Boot Camp transformation Challenge!! I just had to come back!
Since joining in March, I have lost a total of 10 kilos and two dress sizes but more importantly gained a great deal of fitness! I am able to comfortably run the 200m street run without finding it a death sentence and the other day I did 30 full situps and with a 5kg weight on my chest. This is a Huge deal for me after all the back and pelvic issues I experienced during my pregnancy. Thank you MissFit! I am a huge fan!
See More Baby Boot Camp Transformations
Before: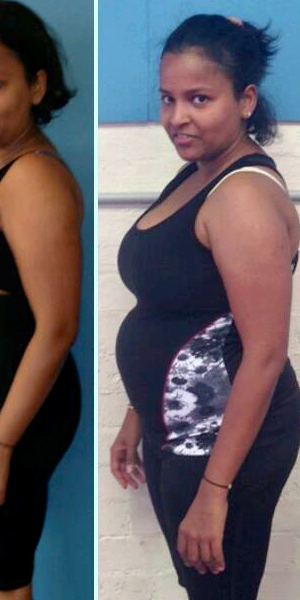 After: