Michelle
I joined the 12 week challenge with MissFit in February 2016. After a year of extreme challenges in my personal life I felt like I had lost myself and who I was and thought this would be exactly what I needed to get myself back on track. Not knowing anything about MissFit but being a local and driving past the studio most days I decided to give it a go.
This was my first 12 week challenge and also my first time at MissFit so when day one came I had no idea what to expect but all I can say is from the moment I walked in I was welcomed with open arms by a wonderful and friendly bunch of women.
Joining the challenge for me was so much more than just losing weight, obviously that was a goal but I really just wanted to get back into a positive headspace, find some direction and balance, create better life choices on both a personal and fitness level and get my once energetic bubbly self back.
I was really apprehensive on how I would go but the challenge is so organised and run so well that it sets you up for success immediately.
The meal plans, the classes and the abundance of support and knowledge that is at your fingertips is priceless. There are Facebook forums that everyone is encouraged to take part in, we also had regular check in's throughout the challenge outside of the gym to keep us motivated and allow us to talk about how we were all feeling which I loved and thought was a nice personal touch. For me an important aspect was the challenge made me accountable to someone other than myself and I needed to have that.
I have had gym memberships for years and I can honestly say I have never achieved the results I have achieved in the 12 weeks of this challenge. Kate's classes are designed for all fitness levels. They are full of intensity, have such variety and are fun but challenging. They are everything you look for in a workout. The combination of weights and cardio is definitely is a winning combination that sees results.
After 4 months I can honestly say I am in the best physical that I have been in for a long time. I have so much more energy, feel stronger, I'm more toned and have a more positive outlook on life. I am more aware of how to fuel my body correctly and have developed healthy eating habits. I also know that it's ok to treat yourself now and then. You learn that everything is about balance and moderation. It is a lifestyle change and even though the challenge is over I am still using these same principles in my everyday life.
I would recommend Kate and her team to anyone who is looking for a fun and social way to reach their health and fitness goals. The team is extremely dedicated and passionate about what they do. I've met some amazing ladies in my journey who have become friends. MissFit is a community and I can't thank them enough for getting me out of my funk.
See More 12 Week Challenge Transformations
Before: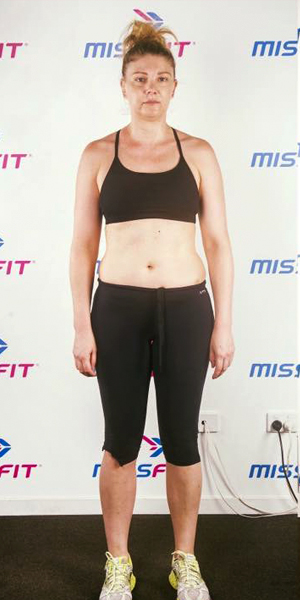 After: